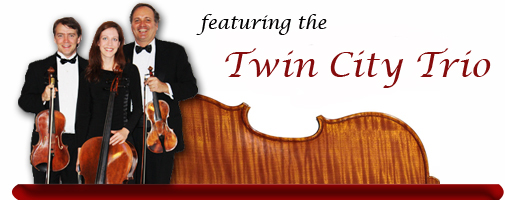 Elegant Ensembles specializes in providing string quartets and ensembles for weddings and special events in the North Carolina area especially serving Raleigh NC, Greensboro, Charlotte and Winston-Salem. For smaller weddings a string quartet may be more than you need and a string trio may balance the sound better. Our featured string trio is the Twin City Trio consisting of violin, viola, and cello. A larger sounding option for wedding music is the Salem String Quartet. For events that might benefit from a splash of regal flair, consider a trumpet added into the mix. Several of these options can be viewed in action below.
One of Elegant Ensembles unique qualities is that we dedicate our skills and services to only providing acoustic ensembles for weddings and special events. This sole focus combined with our relationship with skilled professionals who currently perform
in the Winston-Salem, Greensboro, Raleigh, and Salisbury Symphonies as well as the Charlotte String Quartet and Charlotte Symphony, Raleigh String Quartet and Symphony and numerous other orchestras and ensembles throughout the Piedmont Triad and Triangle insure professional quality, detailed service, and excellent musical performance standards.
When planning your wedding, be sure to preview over 75 wedding music samples performed by our professionals. We also offer unlimited consultations to help choose the right music for your event. If we work with you, you will enjoy our one of a kind planning tool called SamePage where your wedding day details are recorded online and all the musicians are kept on the "same page" with "invites", updates, and 48 hour pre-event checklists sent from a database driven web technology to offer the best in reliable communication of your event's needs.
Please enjoy learning more about how we can perform elegant wedding music for your special day. Also, take a second to read about our exclusive music planning tool called SamePage. Hire a string quartet for your Raleigh, Charlotte, or Piedmont Triad wedding today!